On her wonderful trip to the Antarctic this year, our Senior Polar Specialist Lucy sat down to speak with Swan Hellenic's Polar Guide, Richard Simpson, to learn more about his working life of outdoor pursuits and expeditions to Antarctica. After a full career in the British Army where he was awarded numerous awards for exemplary service, Richard moved on to the military's adventure training foundation wing where he worked instructing and leading small groups, before joining Swan Hellenic in his current role guiding passengers from ship to shore.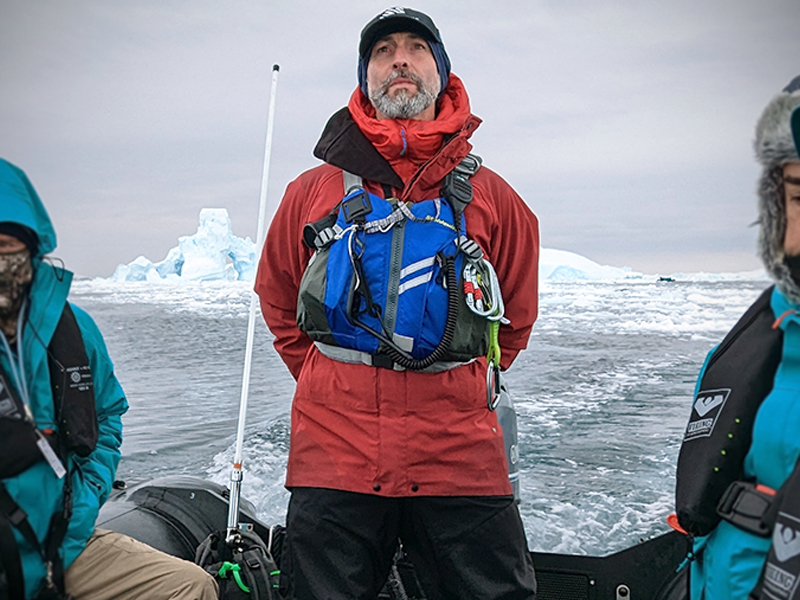 Lucy: Can you tell me a little bit about yourself and what attracted you to work in this part of the world?
Richard: I am a two-time Antarctic explorer, and I was given the opportunity to work with Swan Hellenic after they helped evacuate me and seven other teammates in the Antarctic Peninsula on our last expedition. When I was given this opportunity by Swan Hellenic, I took it with both hands, for sure.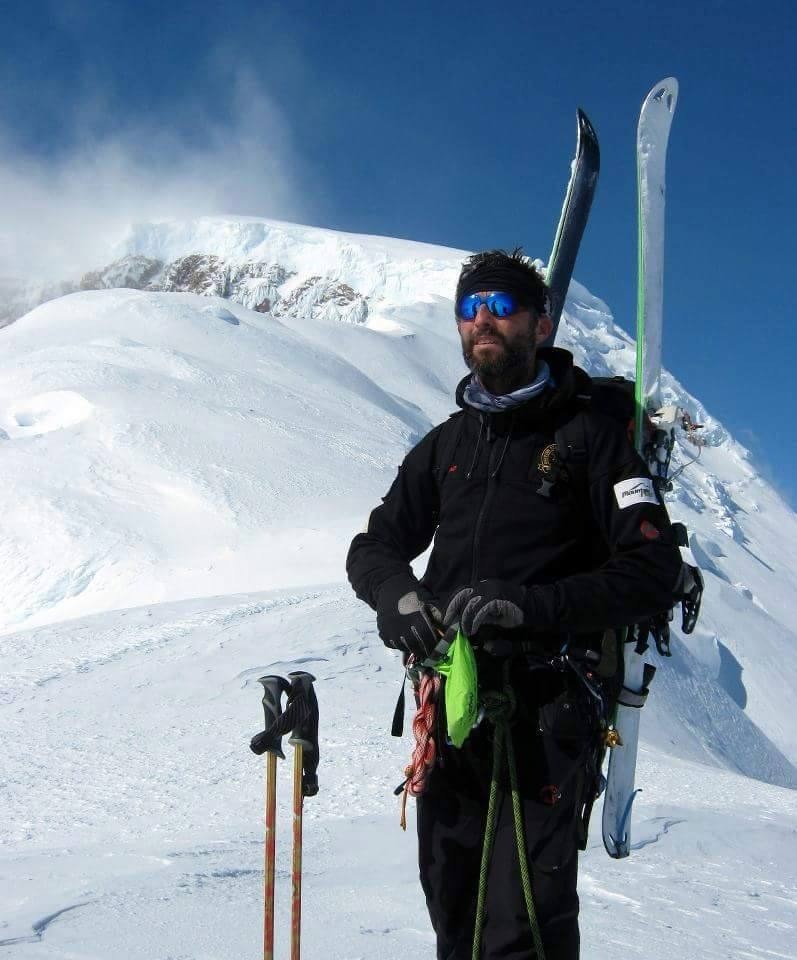 Lucy: As a member of the expedition team on board, what is a typical day for you?
Richard: I wake up at 5:23 am precisely in order for me to be in the gym at 5:30 am! I do an hour's workout and for me that's important – with my military background, I like to keep fit and healthy. Healthy body, healthy mind. I will then do breakfast for 6:45 am if I am going to be out because we need to be ready – dressed and ready to go on a Zodiac cruise or landing by 7:30 in the morning. A Zodiac cruise will be around about two hours long, and a landing could be around about three hours. I would go on land first, set up the routes, do the dynamic risk assessment and make sure that I take the guests to see the nature or the geology and geography in a safe and enjoyable manner.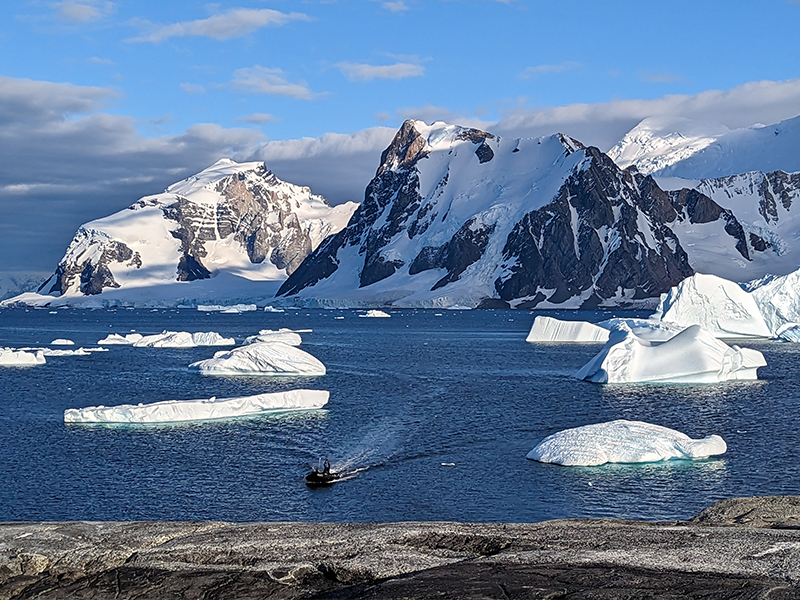 Lucy: Whilst doing your Strava routes?
Richard: Whilst logging it at Strava for my own personal logbook, that's right. That will take me to lunchtime. We then have until about 1:30 pm for the next landing, and we finish that at around about 6 pm. We have got to dash, and get changed into our evening attire for it to be either a recap, which is just a short 5-10 minute lecture on what we have seen today or something we have experienced, or to supplement that with something we have experienced already in a more formal manner. And then we sit with the guests for an evening meal. By 10 pm, I am normally ready to collapse! My kit would be in the drying room and I would have washed it to get rid of guano and saltwater, ready for the next morning.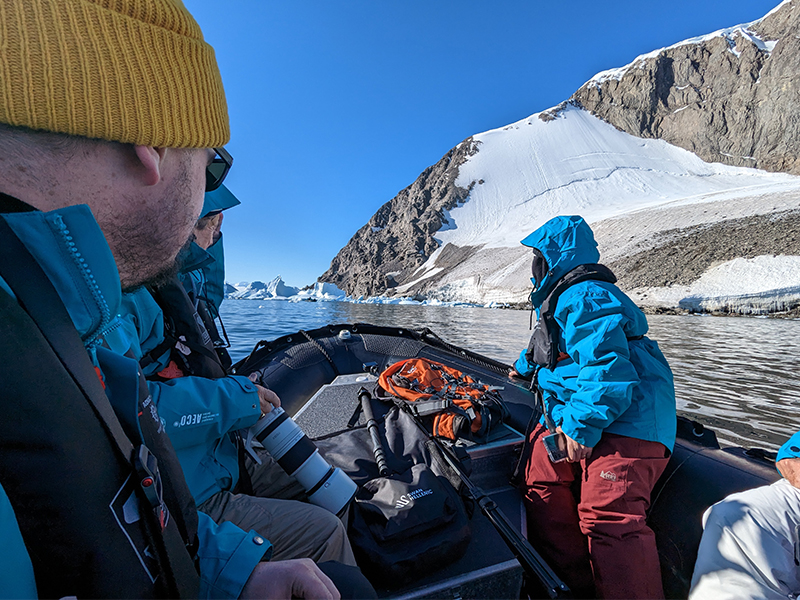 Lucy: So, what's your favourite thing about where you work?
Richard: My favourite thing – wow – I love going to the Antarctic, every time I go it is always different. The Antarctic has got an amazing draw to come back to it every single time. And being able to share this with the passengers and the guests is brilliant. Because I can see in their faces the wonder, I feed off that and I like to show them; have you looked at this bit here, look at what these penguins are doing? Put your camera down, look what is going on over there… It's just brilliant to be able to see the people's faces. And they change – the guests change over a couple of days; I can see that happening. It is not just another continent that people want to conquer – it's not just a box-ticking exercise, it is a life-changing exercise.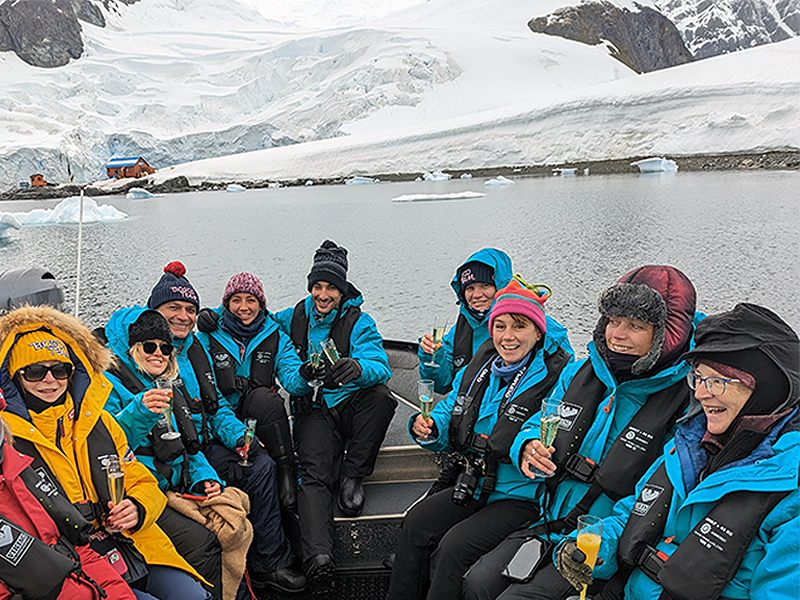 Lucy: Definitely. What is the most unusual or memorable moment you have experienced guiding visitors down here?
Richard: The most amazing experience was actually on Drake's Passage coming back. I think it was in December. There was a beautiful "Drake Lake" – superb weather. And I was with some young kids, I think it was around Christmas time. And I said, stop playing on your PlayStation, look up there, there are some whale blows! And they could see the whales jumping out and as we got closer and closer, we were surrounded by about 100 whales. The whole ship came to a stop. And we were stopped for about two and a half hours surrounded by these – these whales. The whales were migrating south, we were heading north back to Ushuaia. And we were just so fortunate, it was amazing. The whales were intrigued as much as we were, coming right up close to the ship and people were out on their phones, but their phones had run out of memory or battery power! So, people were just gobsmacked. And that is the most astonishing sight.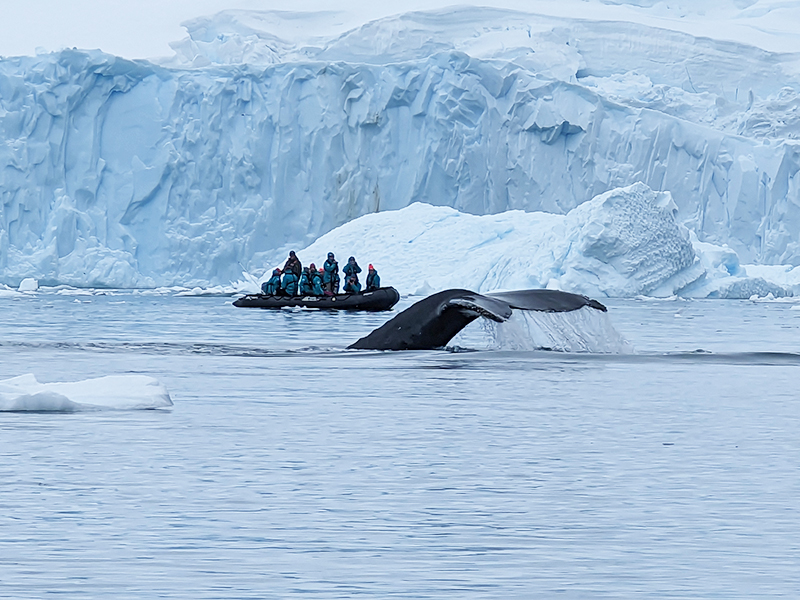 Lucy: I have seen one video of it! That was incredible. Absolutely incredible. What is the biggest challenge that you face in your role?
Richard: The biggest challenge is guests that don't quite understand the dangers of the wilderness they are visiting. I will set out these flags with a reason to either protect them from falling over edges or into crevices, or stumbling into ice holes and also to keep within the ITA rules ie to keep them away from certain wildlife. So, if some guests decide to wander off into a penguin rookery for example they would be breaking rules and ruining photos for other guests.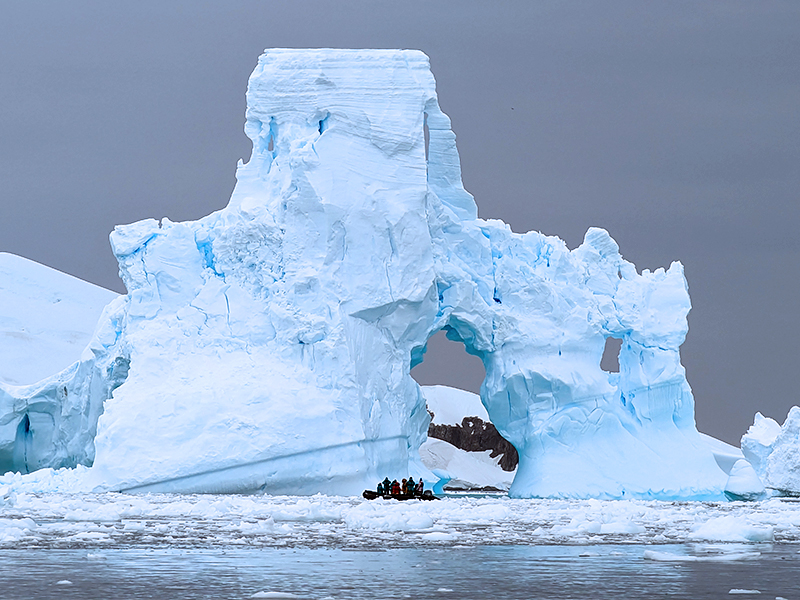 Lucy: What advice would you give travellers coming to explore Antarctica?
Richard: So, it's probably not as cold as you think. Don't bring too many outrageously warm clothes because it is not that bad! The ship does provide a warm jacket and a warm outer jacket. Please, bring waterproof trousers, ideally brand new. No need to bring any fancy footwear because we give you Wellington boots. And by all means, bring a camera but don't spend all your time behind that camera because your camera lens will never take in the enormity – the enormous sort of landscape that you are surrounded by. So, don't live your life behind a lens.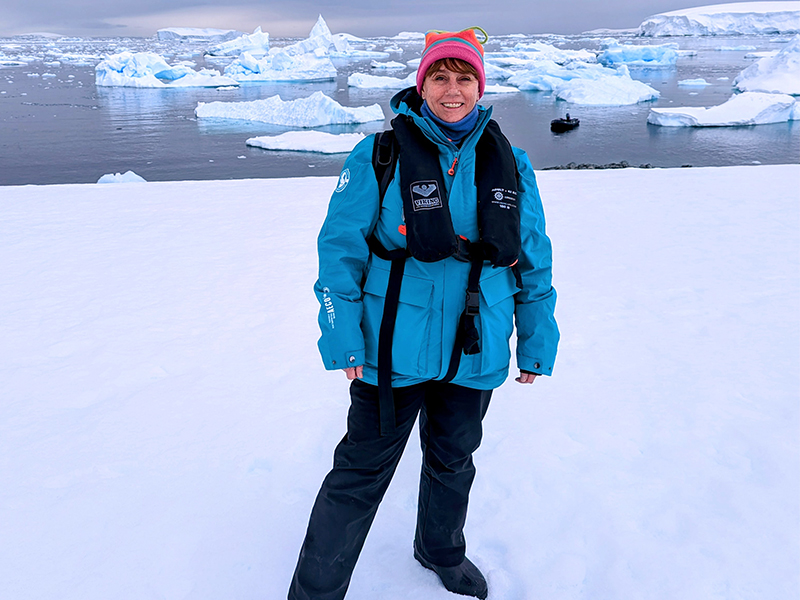 Lucy: I totally agree with that. Favourite time of the year?
Richard: I think late November going into December.
Lucy: I would agree with you on that – definitely early season. And lastly, any funny stories you would like to share?
Richard: Being asked "Are those penguins real?" Some people cannot believe that they have seen penguins for real! We get some funny comments from the guests sometimes!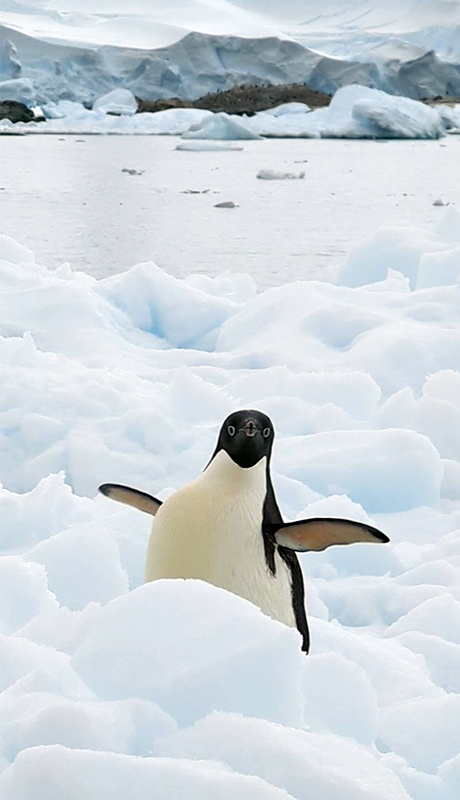 Lucy: Brilliant. Thank you very, very much.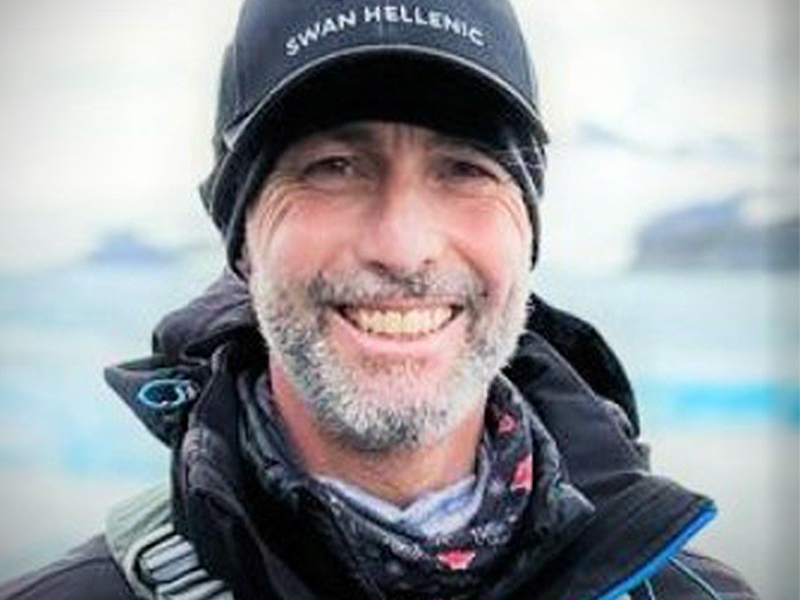 ---
Lucy sailed on the Antarctica Peninsula in Depth by Swan Hellenic itinerary with Richard as one of the expedition guides.
"Your arrival on the White Continent will be greeted with spellbinding landscapes and extraordinary wildlife. With our experienced team, you'll explore this icy wonderland looking out for penguins, albatrosses, whales, elephant seals, and much more. You can also take your Antarctic expedition to the next level on a traditional 'polar plunge'. Take a dip into the icy waters of the Southern Ocean and enjoy the exhilarating after effects over a hot chocolate on our Pool Deck".
Ready to start planning your incredible Antarctica expedition cruise?
Simply complete our enquiry form to get in touch, or call our Polar Specialists on 020 3666 1033.
---






---
Share It:





---
---